Roses are Red, Violence is Due is a special annual Prize Fight that celebrates Valentine's Day in February with extravagant rewards ranging from elemental shards, Theonite, Canopy Coins and special relics featuring exclusive fighters.
Modifiers & Restrictions
This Prize Fight features two modifiers that only affects the player with a unique restriction of requiring a Valentine in the team for every fight.
| SHE LOVES ME | SHE LOVES ME NOT |
| --- | --- |
| When at an ELEMENTAL ADVANTAGE, 50% of damage inflicted is regained as HEALTH. | When at an ELEMENTAL DISADVANTAGE, 50% of damage inflicted is reflected back. |
Tips & Tricks
Offense: The modifiers for this event are solely placed on the player's side, and have ELEMENTAL ADVANTAGES in mind. For the first modifier, SHE LOVES ME gives the player a effect similar to VAMPIRE where they regain health back with each succesful hit, albeit locked behind an Elemental Advantage restriction. Not bad! It can help your fighters from dying from chip damage over time, and for Beowulfs, who often have the DEFENDING CHAMPION Marquee active, it helps them keep their health above the opponent's. While it is a nice effect, it's not absolutely neccessary as healing is not one of the things you often associate with offense, so the player shouldn't limit themselves to variants with Elemental Advantages over the enemy team if they have a variant that can do the job better.

Now where this event becomes tricky is with the other modifier: SHE LOVES ME NOT. This modifier is the exact opposite of SHE LOVES ME as it actually deals recoil damage to you if you have an ELEMENTAL DISADVANTAGE. Unlike the first modifier, this really impacts the choices you make when picking an offensive team as high streaks will have very tanky teams, and you really don't want to take 50% of your dealt damage when taking them on. Do not pick variants with an Elemental Disadvantage if you can't afford to take the recoil damage.
Using Double variants is kind of a double-edged sword; On the one hand, if you transmutate into an Elemental Advantage, you get healing, which they can really use since Double as a character has a naturally low health pool and you can freely adjust your element to be advantageous to whoever you're up against. On the other hand, if you somehow get yourself into transmutating into a Disadvantage, it's really easy to die from the recoil damage since, again, they don't have a lot of health and have a high Attack stat. Keep this in mind while choosing your offense.
Dark, Light and Neutral variants are great since they don't actually have an Elemental Disadvantage by nature; Light and Dark variants don't have Disadvantage to each other, and Neutral variants are, well, neutral. Rainbow Blight is an exception to this for the reasons stated in the previous paragraph.
And finally, you need to have a Valentine variant in your team in order to attack teams. This is not the worst restriction to have, but most of the Valentine variants deal with defensive support, especially the bronzes and silvers. While it's nice to have a safety net with Forbidden Procedure or a Kill Joy, the player should try to pick an offensive (support) variant if they can. Examples are Très Chic, Oh Mai and Silent Kill. Happy Valentines, and have fun!
Event Rewards
Lovestruck Relic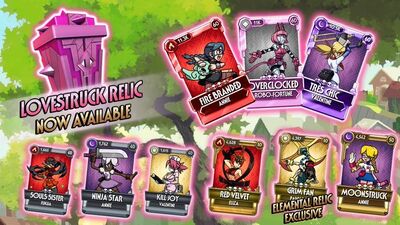 The Lovestruck Relic is an exclusive relic that can only be obtained through the Prize Fight rewards. They are also sold in the shop for a limited time throughout the event's duration. Lovestruck Relics feature a limited pool of red and pink and white themed fighters.
The contents of the Lovestruck Relic may change. The image displays the pool of fighters that was released during the most recent event.
| Points | Rewards |
| --- | --- |
| 25,000 | 10 Theonite, 5,000 Canopy Coins, 1 Gold Gift |
| 50,000 | 20 Theonite, 7,500 Canopy Coins, 1 Gold Gift |
| 100,000 | 30 Theonite, 11,250 Canopy Coins, 1 Gold Gift |
| 325,000 | 40 Theonite, 17,000 Canopy Coins, 1 Lovestruck Relic |
| 800,000 | 50 Theonite, 25,000 Canopy Coins, 3 Gold Gifts |
| 1,500,000 | 60 Theonite, 38,000 Canopy Coins, 3 Gold Gifts |
| 2,500,000 | 70 Theonite, 57,000 Canopy Coins, 1 Lovestruck Relic |
| 4,500,000 | 80 Theonite, 85,500 Canopy Coins, 5 Gold Gifts |
| 8,000,000 | 90 Theonite, 128,000 Canopy Coins, 5 Gold Gifts |
| 12,500,000 | 100 Theonite, 192,000 Canopy Coins, 1 Lovestruck Relic |
| 25,000,000 | 200 Fire Elemental Shards, 500 Gold Relic Shards |
| 50,000,000 | 300 Fire Elemental Shards, 250 Diamond Relic Shards |
| 100,000,000 | 500 Fire Elemental Shards, 1 LEGENDARY RELIC |
Total Rewards for completing all milestones: 550 Theonite, 566,250 Canopy Coins, 19 Gold Gifts, 3 Lovestruck Relics, 1 Fire Elemental Essence, and 1 Legendary Relic.
Rank
Rewards
Rank 1-100

1x Diamond Key

5x Lovestruck Relics

Top 10%
4x Lovestruck Relics
Top 11%-30&
3x Lovestruck Relics
Top 31%-60%
2x Lovestruck Relics
Top 61%-100%
1x Lovestruck Relic
Score Cutoffs
| Date (MM/DD/YY) | Rank #1 | Rank #100 | Top 10% | Top 30% | Top 60% | Duration (Days) |
| --- | --- | --- | --- | --- | --- | --- |
| 11 FEB 2020 | 302,175,208 | 159,278,501 | 40,290,142 | 9,223,283 | 2,537,367 | 4 |
| 11 FEB 2021 | Add score | Add score | Add score | Add score | Add score | 4 |
Community content is available under
CC-BY-SA
unless otherwise noted.